↑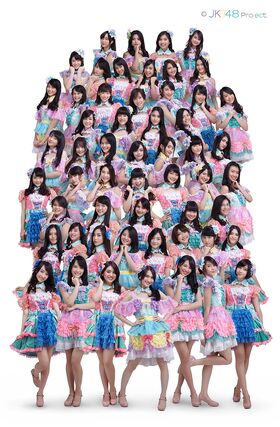 JKT48 (Je-Key-Ti Fourty-eight) adalah sebuah idol-group dari Indonesia dan merupakan sister-group pertama dari AKB48, yang berasal dari luar Jepang. Sedangkan AKB48 sendiri adalah sebuah idol-group ternama di Jepang yang diproduseri oleh Yasushi Akimoto, yang juga memproduseri grup 48 lainnya. Nama JKT48 diambil dari asal kota grup ini sendiri, Jakarta. Seperti grup 48 lainnya, JKT48 juga memiliki sebuah theater yang berada di lantai 4 di mall fX Sudirman, Jakarta. Saat ini, JKT48 terdiri atas Tim J, Tim KIII, Tim T, dan Trainee dan memiliki 4 Sub-Unit, yaitu 4 Gulali, JKT48 Dangdut, JKT48 Band, dan JKT48 Dance Project.
Per Desember 2016, JKT48 memiliki 70 members, 1 Kennin member dan 6 trainees. Masing-masing anggota Tim telah ditentukan berdasarkan JKT48 Grand Team Shuffle pertama yang diumumkan pada Festival Handshake Mae Shika Mukanee.
Anggota yang namanya Dipertebal merupakan Kapten Tim.
JKT48 General Manager: Melody Nurramdhani Laksani
Discography
Edit
Ad blocker interference detected!
Wikia is a free-to-use site that makes money from advertising. We have a modified experience for viewers using ad blockers

Wikia is not accessible if you've made further modifications. Remove the custom ad blocker rule(s) and the page will load as expected.